After (almost) 2 years of deprivation, the KIKK Festival is back to celebrate its 10th edition in style. We promise you 4 days of immersion in the creative and digital cultures that will brighten up your autumn days. In order to live this festival in the best possible conditions, it will take place according to the rules of the art...and the governmental measures. We have prepared a short guide to help you find your way around.
COVID SAFE TICKET
To be part of the festival, you will have to present us at the Covid Safe Ticket Accreditation (more precisely at the Notre-Dame School, behind Theater of Namur):
- Your identity card
- Your Covid Safe Ticket
Click here details on the Covid Safe Ticket for foreigners outside of the EU, select your country at the bottom and fill in the form.

Opening hours :
Thursday and Friday: 8.30am - 5.30pm
Saturday and Sunday: 9.30am - 5.30pm
Medias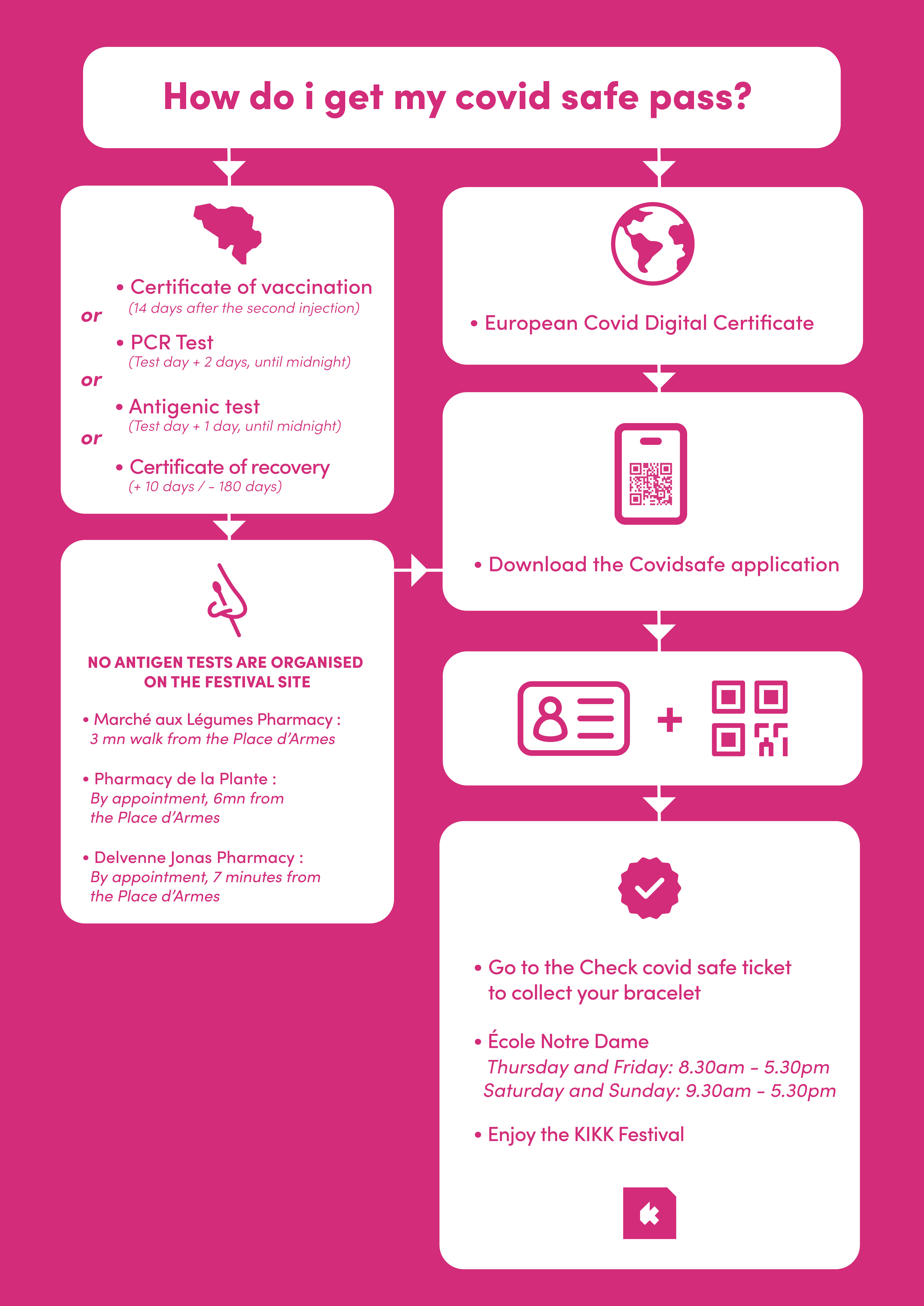 Information for Belgian residents
To obtain the Covid Safe Ticket, you have several options:
- You are in possession of a vaccination certificat (test day + 2 days, until midnight). It is available via the CovidSafeBE application. You can also go to www.masante.belgique.be to download a vaccination certificate/test or have it sent to you by post.
- You have a PCR test (test day + 1 day, until midnight) and you have obtained a negative result. You can make an appointment at one of the official testing centres (https://www.info-coronavirus.be/)
- You have a certificate of recovery.
- You have carried out an antigen test in a pharmacy or in a testing centre and you have obtained a negative result less than 24 hours ago. It is important to note that there will be no antigenic test organised on the festival site, so it is important to obtain one before joining the festival.
If you wish to do an antigen test, here is the list of pharmacies, located not far from the Place d'Armes, that offer them. Please note that these tests are usually done by appointment. You will have to wait between 2 and 4 hours to obtain the precious QR code. Hence the importance of organising yourself (if possible) before the festival. The official price of an antigen test is 26.72 euros.
Pharmacie du Marché aux Légumes : 3mn walk from the Place d'Armes
Pharmacie de la Plante : By appointment. 28 euros. 6mn from the Place d'Armes by car.
Delvenne Jonas Pharmacy: By appointment. 7mn from Place d'Armes by car.
Please note that these antigenic tests are not covered by your health insurance.
Information for visitors from abroad
First of all, WELCOME TO THE KIKK FESTIVAL! Without you, the festival would not be the same.
As an EU citizen, all you have to do is present your European Covid digital certificate. Non-Belgian residents must present a European Covid digital certificate. When the certificate is scanned, a green (access) or red (no access) code is displayed. The certificate contains a standardised QR code that works for all EU residents (+ Iceland, Norway and Switzerland).