KIKK in Town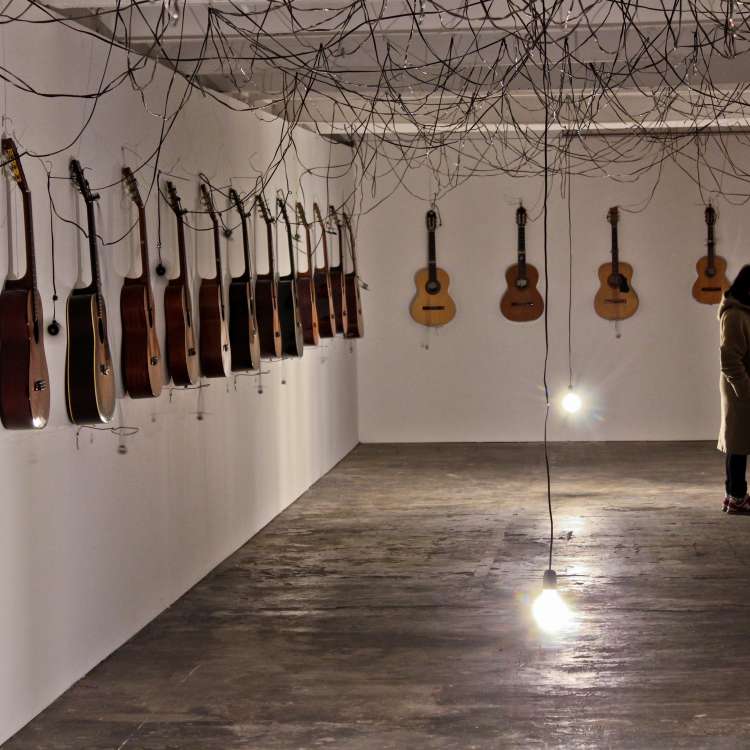 Rubén D'Hers
Chords Tunnel #2
Hours and dates
From 4 Nov 2021 to 7 Nov 2021 / from 10:00 to 18:00
Rubén D'Hers is from Venezuela. He lives and works in Berlin. Acoustic guitars, zithers, piano strings, cable, stones, hanging motors, pliers, waving cords, bird feathers and refrigerators parts are some of the material he currently uses to produce sound installations, sound objects and music. The works usually operate as chord based compositions that become complex sound spaces referring to the vertical and static. He is a recipient of the Stiftung Kunstfonds working stipend 2020, the emerging artist award grant Cisneros Fontanals Foundation CIFO 2018 and the visual arts research grant from the Berlin Senate Department for Culture and Europe 2017. His work has been exhibited and performed at venues like Funkhaus Berlin, Centro Cultural Metropolitano Quito (EC), Artica Svalbard (NO), Interstice - Rencontres des Inclassables (FR) Klangraum Krems (AT), Cashmere Radio (DE), Netwerk Center for Contemporary Arts (BE), Heart of Noise Festival (AT), The Empty Gallery (HK), Donau Festival (AT), Le Bon Accueill (FR), Kontejner (HR), Oficina #1 (VE), ZKM Karlsruhe (DE), Neues Museum Weimar (DE) and SeaM Weimar (DE). He holds an MFA in Sound Studies at the Berlin University of Arts, a BFA in Media Art & Design at the Bauhaus University Weimar.
Chords Tunnel #2
Chords tunnel #2 is a sound installation comprising a variable number of prepared acoustic guitars using four different tuning modes. The guitars are hung on both sides of a long corridor and are played almost continuously by a network of controlled dc-motors. Entering the space, the first group of ten guitars are tuned differently from the next ten and successively. Essentially, the installation explores the harmonic transition of the 4 tuning modes as the visitor passes through the hallway.
Acoustic prepared guitars, computer controlled Dc motors and cable.
Medias