Market
Home Based adapts the homes of elderly and/or disabled people to enable them to remain in their own homes for as long as possible, with a maximum of autonomy.
To this end, Home Based has developed Soline, an environmental control system that allows the various equipment in a home to be controlled in an adapted, scalable and modular way. Adapted, because it is designed according to the user's abilities. Scalable, because it allows the user's capabilities to evolve. Modular, because it accepts its different functions as and when required. Soline is available both at home and in institutions (hospitals, nursing homes, residential care facilities).
The adaptation of a home must be thought of in a global way. Home Based also analyses the adaptation needs of the entire dwelling in its design office.
Home Based is therefore a partner of choice for people who want to adapt their home to enable them to live at home for as long as possible, in complete safety and with a maximum of autonomy.
Medias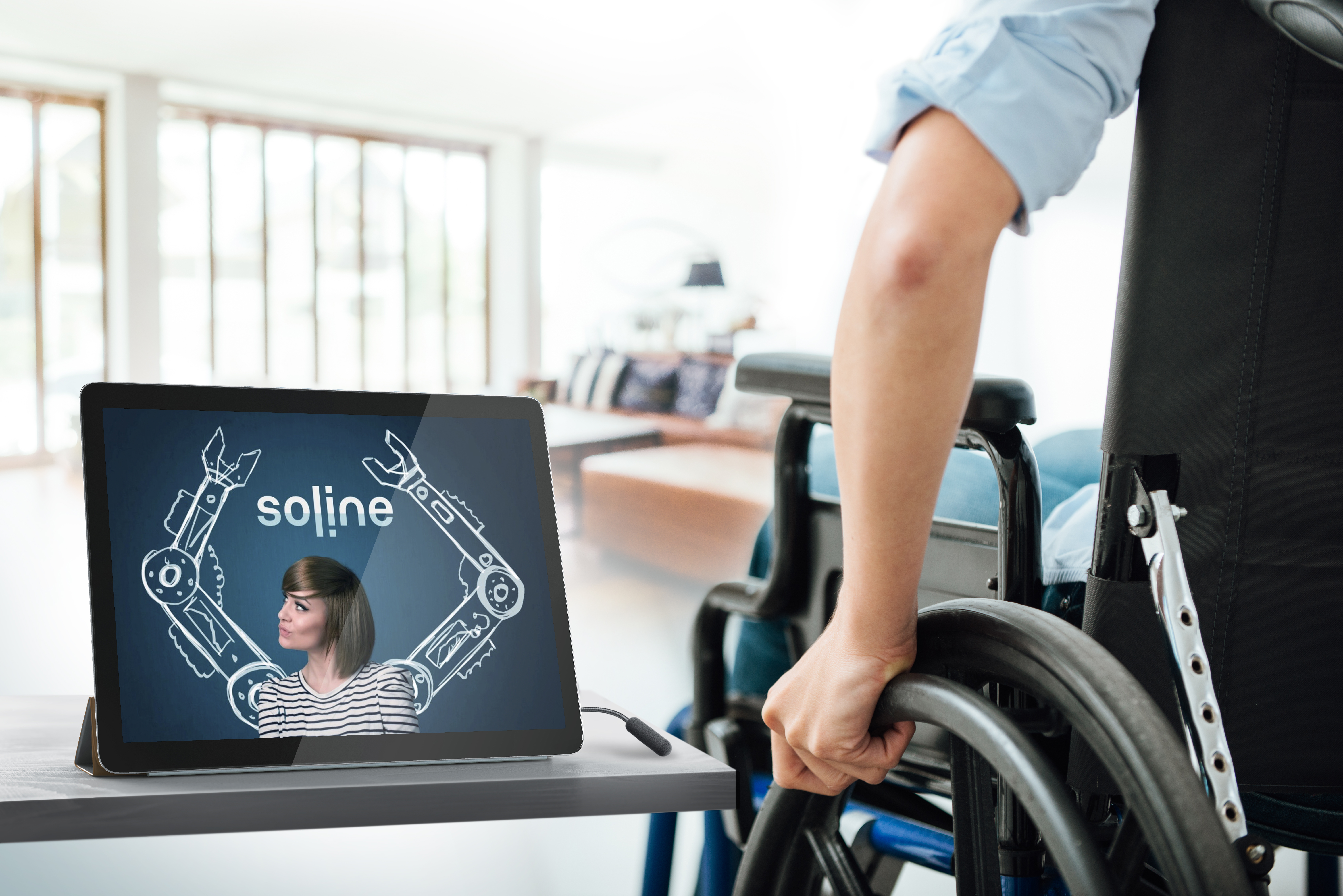 Soline
SOLINE® is an environment control system developed and produced by Home Based®. This system allows disabled people to interact with the electrical equipment of their house on a manner adapted to their current and future abilities.
The whole system is modular and scalable. One can add an equipment to an existing system simply by adding the functionality to the central point. One can also add or modify an interaction way simply by connecting a new compatible interface to the system.
The currently available interaction modes are the following: voice recognition, ocular control, gesture, smartphones and tablets, joystick, personal computer, assistive software, remote controls, pushbuttons, classical and adapted switches, …
The currently controllable electrical equipment is the following: lighting, plugs, shutters, heating, air conditioning, motorized beds and chairs, motorized doors and windows (inner & outdoor), lift, access control (audio & video), phone, emergency calling, radio, TV, multimedia (cinema, music, family pictures, audiobooks), connected applications (agenda, memo, shopping lists, …), reading and writing of e-mails, internet surfing, …
The force of SOLINE is its ability to react to several interaction modes at the same time, allowing redundancy to avoid periods of no-use due to unsuited interaction capacities. SOLINE is really available 24h a day, 7 days a week, and is suited for people with reduced mobility, partially sighted or blind persons, people suffering of neurodegenerative diseases, …
Medias