KIKK in Town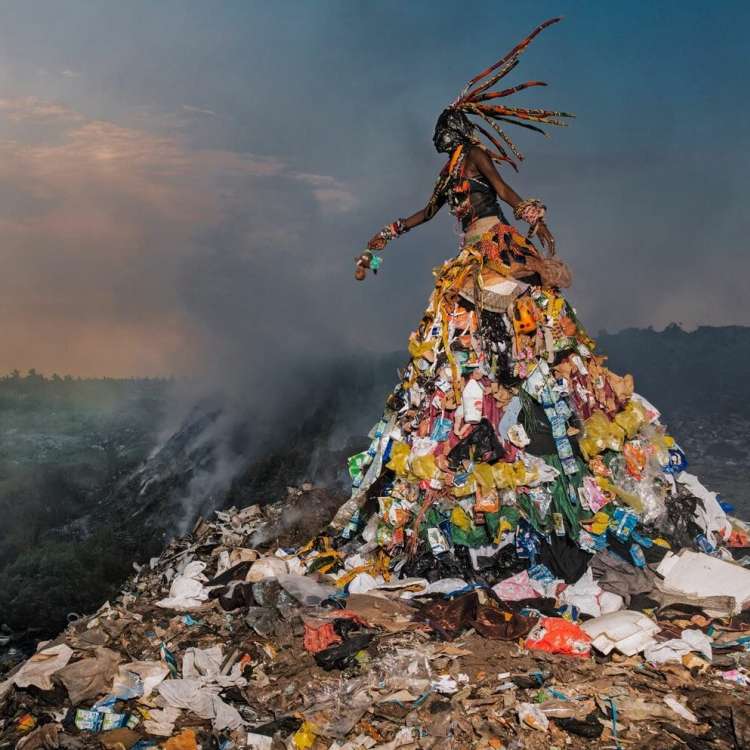 Fabrice Monteiro
The Prophecy - AfriKIKK
Hours and dates
From 4 Nov 2021 to 7 Nov 2021 / from 10:00 to 18:00
The place
Etablissement des Soeurs Notre-Dame
Born in 1972 in Namur, Fabrice Monteiro grew up in Benin. He now lives and works in Dakar. After studying industrial engineering, he began a career as a model, which was his first experience with the photographic medium. His first experiments behind the lens were naturally in the world of fashion, but he quickly decided to change his trajectory and explore different narratives.
Fabrice's photography straddles borders: from fashion to photo-reportage, passing by portraiture, categories merge and melt away to better reveal a "mestizo" he is himself. Deeply transcultural, Fabrice does not let divisions or biases impress himself, but cultivates his intrinsic richness by the projection of a double outlook on the topic he tackles. Whether he reveals terrifying visions of a world strangled by waste with a series such as "The Prophecy", or awaken a forgotten history with stylized portraits, Fabrice addresses questions of society, politics, religion and identity. Far from being shy, his work brilliantly dodges any stigmatization to let the full sensitivity of a non-confrontational identity express itself. A factual solution to the "murderous" question of the composite being which was raised by Amin Maalouf.
The Prophecy - AfriKIKK
"Mother and guardian of the sky and the earth, of volcanoes and rivers, Gaia watches over the world and its inhabitants. Wounded, exhausted and dismayed by the attitude of men and their lack of consideration, Gaia decides to summon the Great Spirits of Nature. Her children and faithful allies; the Djinns. "My dear children, hear my call. Evil is growing on our beloved earth. I have built a beautiful world where every bit of life has its place, where everyone is free to breathe, eat and admire what nature has to offer. Yet I am dying little by little. Every day more numerous and more insatiable, men abuse my wealth without thinking of the consequences. Here are decades that they remain deaf to my calls. But you, my faithful Djinns, you can reach them. Go, reveal your existence to men and alert them to the danger that threatens them". Thus the Djinns separated to travel the world to meet the men…
When the photographic project "The Prophecy" was conceived in 2013 in Dakar, it was intended to reflect the serious environmental problems facing Senegal and the consequences of excessive consumption: "The idea was born in Senegal where, noticing the lack of environmental civic-mindedness around me, I wanted to tell a story, a tale that would combine animism and ecology to better speak to the hearts and thus try to contribute to the awakening of an ecological consciousness in children." Composite characters, inspired by West African masquerades, emerge from oil slicks, garbage dumps and parched landscapes to deliver a message of warning and empowerment to mankind. As an extension of "The African Prophecy," Monteiro's goal is to spread the concept worldwide and create a global prophecy in which all cultures and continents would be represented: "Every plague, every problem is not just about the country where it is dealt with, but about the whole of humanity. Using the beliefs and traditions of each, I seek to build bridges between all for a more global approach to this unprecedented challenge in human history. The next two decades will be decisive".
This work was created in collaboration with the Senegalese artist Jah Gal Doulsy, who created the costume for the installation.
This artist is part of the AFRIKIKK partnership between Belgium and Senegal (with KIKK Festival, Kër Thiossane and the curator Delphine Buysse) thanks to the support of Wallonie-Bruxelles International - Bureau International de la Jeunesse & Africalia
Medias